Dragonfly Dezignz - One Page Sites
These pages can be made up in any colour that you wish, and will have basic information on them about your business, (name, address, type, phone or email address, plus one graphic to depict your business, and one photo of you or a concept of your business.
The cost of them will be taken from the cost of a larger site if you wish to expand later down the line. The one-pagers are basically a stop-gap until you get your business going. They will be put on our web server but when you update your larger site will be on a server of your own.
A one-page site will cost £30 ($50) you can pay via Paypal or check (UK).
Please email with instructions and we will go from there.
Email - info@dragonflydezignz.50megs.com
A recent one page site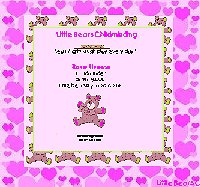 Little Bears Childminding
Credentials
Web site design and related computer topics from the Open University 2000
| | | | | |
| --- | --- | --- | --- | --- |
| | | | | |
| | | | | |
---
If you need to get back to the HOME page please click on the dragonfly at the bottom of each page and you will be transported there.
All images and original designs are protected ect under United States and International copyright laws.
Copyrightę by Dragonfly Dezignz. All Rights Reserved. 1998 - 2015